While I was going through the closet, I pulled out a bag of brown Bluefaced Leicester top. It's nice fiber, but the prep is less than spectacular. I knew this when I bought it and it was certainly a nice price, but the little bits of tangled fiber mixed in are a bother. I've taken it out several times to try to find a project for it, without coming up with something I could get excited about. And the nuisance of picking out the neps isn't really the problem.
Modern handspinners love them some BFL. It's hugely popular among novices: fast to spin, easy to find and not hideously expensive. I got it originally to practice short forward draft (I normally do short backward draft for worsted) so it's ok if the yarn doesn't come out perfect. But it's not the fine wool that I normally work with and I can't decide what to do with it. I've tried a bunch of different samples in different techniques and still nothing jumps out as "gotta do this!" I know that brown is part of the problem for me, but I thought it would be interesting to play with.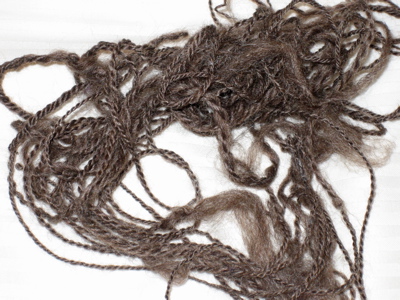 It drafts well with long draw either from the fold or directly from the end of the top, in 3-ply it makes a fuzzy knitting yarn. I can't think of anything I'd want to knit except maybe another hat. Hats make nice gifts. I'd have to think about who I might give a handspun, hand knitted hat to who doesn't have one already, can be trusted to take care of it and would actually wear it. Fuzzy yarn is warm, but prone to felting.
The next sample was sock yarn, a couple different ways. Directly from the top a 3-ply worsted was ok but uninspiring and picking out the lumps a nuisance. I combed some to see how annoying it would be to remove the bits and the results were only so-so. There is a huge range of fiber lengths so combing makes a top that is half the fiber length at the shorter end. This makes it draft differently in the different sections. And planking, re-combing and all that is way too much work for an eh fiber. There is also still the question of who would I be giving these brown socks to, provided I were able to actually finish both of them.
Then were various weaving yarns. As a single, with enough twist for warp, it was a little harsh. It might be interesting garment fabric. 2-ply was just boring. I tried carding, both to see if it would open up the lumps and if it would make a more interesting yarn, and it accomplished neither.
Once again I set it aside for another day. I've gone through probably 50g trying to find something I like, so it's good I've got a bag full of it.