I've been doing more quilting lately, mainly because it doesn't take huge blocks of time. I can work on something for ten minutes and put it down, which is not possible with most of my other projects. Haven't had time to update the blog either. Some are gifts I can't post yet anyway.
I finished several laptop sleeves, some because we got new netbooks and needed them, another as a design challenge. They are fun because they are small enough you don't get sick of something and can try techniques you aren't so sure about. First the two netbook sleeves: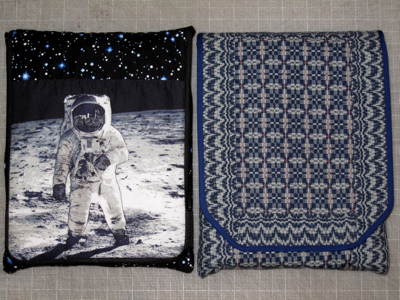 Can you tell which is mine? I was intending to make one from the blue log cabin handwoven fabric but it wasn't wide enough. So I used a cotton print in traditional overshot weaving designs. If you don't look too closely it looks like an overshot center rectangle with borders. As quilting goes it's very very simple but it works.
The other has friendship stars in black on a star print, with a panel image of Buzz Aldrin on the moon. That would be for DH the Space Dork. He even posted about it on his own blog (including some more pictures.)
The other is what I've been calling the "Ugly laptop sleeve project." I recently bought several quilting surprise packages, which came with all manner of, err, "interesting" fabric selections. A friend had responded to one of my sewing project comments with a bad pun, so in honor of such noble sentiment I promised to make him something. 🙂
I pulled out a couple fabrics, tossed in a leftover from another project, and made a laptop sleeve of one inch squares in a four patch design.
The fabric: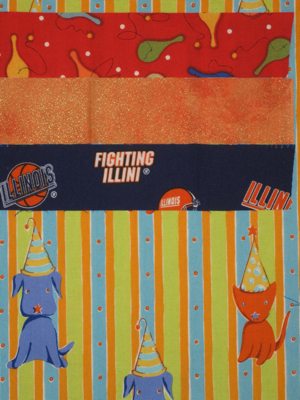 And the finished product: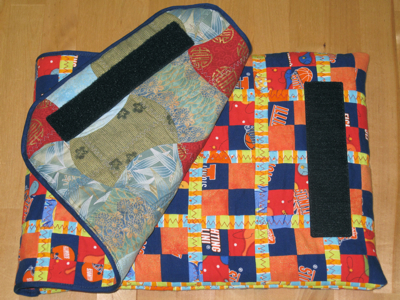 My goal was to take some fabric I hated and make it into something interesting. I still have a hard time saying I like it, there being much orange involved, but I think it was successful. It's sure bright, anyway. The small pieces disguise the objectionable patterns in the fabrics so you don't notice as much. Adding the red much improved things and I had some strips already cut from another project. I learned a few useful things, like don't try to apply binding directly over all those seams. I won't be doing any large projects with so many tiny squares, either.
I made the inside a different pattern, in some more reasonable colors and a design I've been wanting to try but not commit to a large project. It was the first time I'd done curved seams for a quilt block. Interestingly, after I had already decided to use this I found out it's a traditional quilt shape called Apple Core. Which was particularly funny since not only is it for a Mac laptop, it's for an Apple employee's Mac laptop.
In piecing the curved blocks I discovered that my quarter inch seam allowances weren't up to snuff. This made matching the rows annoying and I had to iron it to death to get it flat. After much quilting it's hard to tell, but I'm still happy it's only the lining.
I have some other projects in the works but they are mainly gifts. One is out being machine quilted, so soon we'll see how that experiment goes. I've seen other work by my quilter so I'm expecting good things. I'm trying to finish one more quilt to drop off when I go pick up the finished one.