I needed a new small purse, the old one recently had a shoulder strap emergency and it is really too small for the phone I have now anyway. I've had this handwoven fabric around intending to make some bags from it.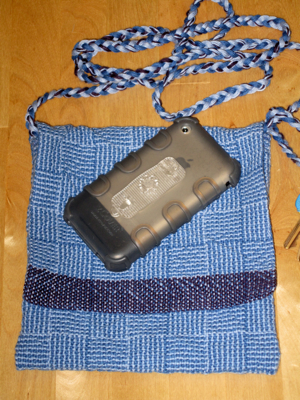 While I was at it, I replaced some plastic bags containing odds and ends with proper fabric ones from the scrap collection.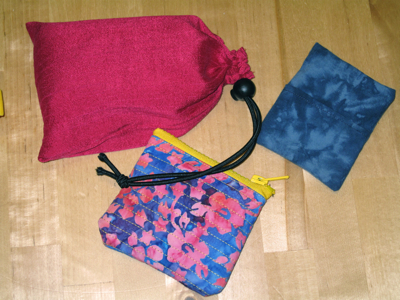 Astute readers will recognize some of these fabrics from other projects.
I had a scrap of the pink and purple floral print from the quilt just the right size for a change purse, which I decided to make with a zipper mostly because I can't find the snap setter right now. The batting is actually flannel, which I had to piece because there wasn't enough. It's a wonder I hadn't thrown it out.
The little blue envelope is for, ahem, "items" that had otherwise been floating around in the bottom of my purse. I've been needing something a little more convenient, so here it is. The fuchsia drawstring bag contains mainly stuff that doesn't fit in my wallet, although it's supposed to have that tiny first-aid kit I've been meaning to assemble. So far I've found the travel-size tube of hand lotion.