I got yarn recently to try out some toe up socks from Wendy's new book. I wasn't liking most of the colorways I found so I got plain natural Trekking Sport (which is, oddly enough, not sport weight) and some new colors of acid dyes. I mean, I can't be seen wearing boring old commercial knitting yarn right? Anyway…
I made a really huge skein on the warping mill and painted it in sections while trying to not let the whole mess fall off the kitchen table: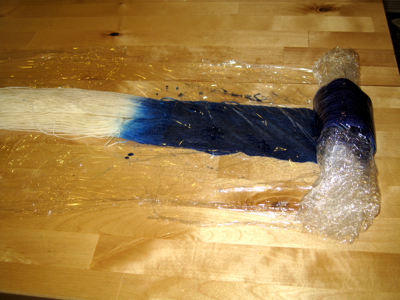 I must say it's quite entertaining to get plastic wrap to perform on command and not stick to everything but the previously positioned section you were aiming for. But I got it all painted and wrapped in plastic and into the steamer. Out came exactly the yarn I was hoping for (much to my amazement!)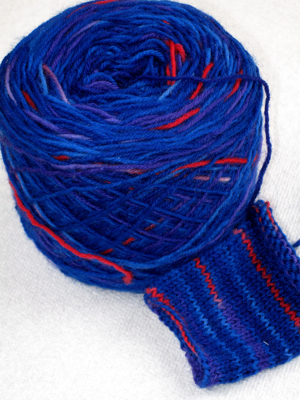 The base color is blue with sections of purple and just enough red to leave a bit of bright color here and there. It took a lot of dye and much poking and prodding to get good solid colors but I'm very happy with the results. It's a superwash wool, which I normally don't like, but I also don't like washing socks by hand. All reports are this yarn wears well so I may try this again.