I recently bought some precut strips of quilting fabric to play with, mostly because they looked like a nice selection of designs and it would save time cutting. There are a bunch of different options, I ended up with two matching rolls of 1-1/2 inch strips. I wasn't quite sure what to do with them so I tried a small project first.
I was a little leery of using unwashed fabric so I combined it only with other fabrics I hadn't gotten around to washing. I picked two designs out of the strips and made a really simple design of rectangles for a laptop sleeve.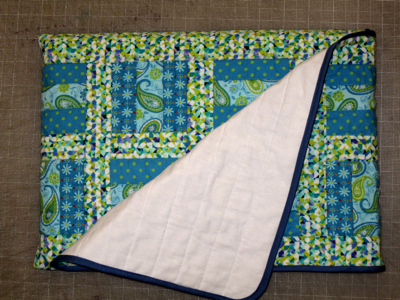 Overall, it went ok. The strips have a pinked edge that I had to watch carefully with matching edges and stitching. But the fabric has enough body to stitch nicely. I still have problems maintaining a consistent seam so things didn't turn out quite as I intended, but I picked the sashing fabric because it was busy and would hide badly matched seams or various other small flaws. Nothing went horribly wrong in washing the quilted fabric so that was nice.
I made a envelope sleeve with a large overlap and no closure, basically something for keeping the laptop from getting scratched. The opening is on the side so I can access the power connector without removing it from my bag. A while back I bought a padded sleeve like this and discovered it's really handy to keep the machine packed away but still plugged in.
I have many strips left so now I've started a larger throw size quilt. It's intimidating to draw out a design with hundreds of tiny squares but so far it's been going ok. I divided the fabrics into blue-green and yellow-red piles, setting the ones with a white background aside for another project. I'm doing kindof a 4-patch thing with some larger squares of other fabrics.
I may try some wider strips or squares for a specific project but I think I'm mostly going to stick with regular washed fabrics. I do a lot of regular sewing so I always have scraps to work with. The idea of buying fabric to cut up specifically for quilting still seems a little strange (although I have to say I've done quite a lot of it the past couple months. Nothing like a couple discount coupons to motivate.)
I have plans for several larger quilts, although I think I'm going to have them quilted by someone else. Small things are ok but bed quilts are quite a handful to baste and stitch.