With the sample spinning finished I went looking for some more fiber in the closet to work on. I pulled out something that has been sitting around a while to try to at least get all the fiber spun. I originally bought two packages of the Ashland Bay multicolor merino with the intent to make a scarf, woven of singles. I spun the first about three years ago and then it got put aside.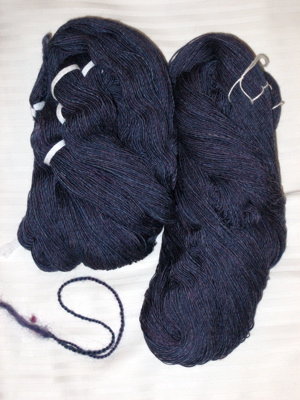 I kept the little reference sample I was using, but in getting back to it I had a hard time keeping the same size. So the new skein turned out a little finer. This isn't a disaster, I can measure the two ends together so they are mixed in the warp and evenly distributed. But still not exactly what I was after. I've had other yarns where one skein ended up very different from the others and sometimes there just isn't much you can do about it but decide you were going to make a different project. My usual practice of spinning way too much yarn generally saves me but isn't exactly the most efficient. Better is to work more on matching the existing yarn, or just finish all the spinning at once in the first place.
With that dubious success over with, I picked up another long-abandoned project and started spinning more of the merino from the county fair yarn. I have one full bobbin, two partial and tons of fiber. I figure I can at least get through the stuff already combed that has been sitting in a box for over a year. I'm doing better on matching the existing yarn, as I still can compare how it looks on the bobbin along with my reference sample. Plus this was intended to be a 3-ply, which hides a multitude of sins.