A while back I started messing with some swap fiber I didn't know what to do with. I still don't, but I'm pressing on and now making yarn I don't know what to do with. Some person will undoubtedly be getting a gift before this is over. But I need to stop with the acrylic baby knitting for a while and go back to a fiber that has some connection to an actual organic substance.
I took the carded multi-color single and plied it with two more of carded black Merino. I'd been looking for something not so fine, a better match for the original fiber, but then Paradise Fibers had a sale. I hand carded a little to do this sample: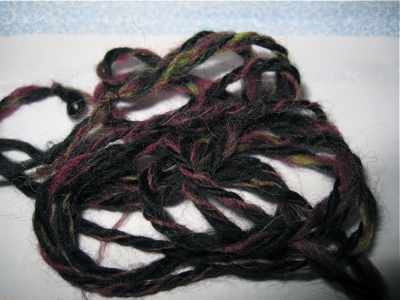 I'm not totally thrilled with the black because I don't like how mill-processed Merino top handles. Dampening it and letting it dry might improve it, but I'm too lazy to go that far. The fiber is also a little too long to draft well as a woolen. I'm always a little reluctant to make something that I'm not completely in love with from the beginning, but it will look and feel a lot different when it's done. And I would never wear anything with chartreuse anyway, so I don't have to get attached to it. It's supposed to be an experiment.
Right now I'm in the middle of carding the 160g of black to go with the 80g of single already spun. Even if it weren't too long to nicely hand card, I'd do it on the drum carder because there is so much to do and no concern for maintaining distinct colors. Carding commercial top is not as easy as one might imagine, it's very dense. Just like Merino fleece, you have to open it up a lot to get good results. But it doesn't handle like fleece, it acts more like fiber with almost no crimp.