Now that the gift package has been delivered, I can post these pictures. A few weeks ago I pulled some odds and ends out of the stash and made this simple square quilt for my (we hope not too) soon to be born niece. The prospect of a preemie modified my project plans a bit and instead I did some tiny hats and this little quilt.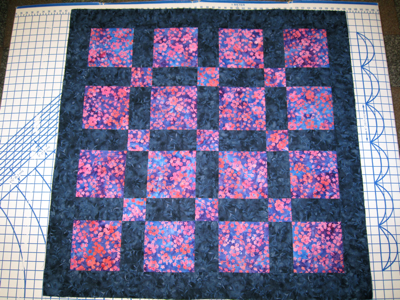 The two fabrics are both remnants I picked up without a particular plan. I had just enough to do this squares and rectangles pattern. It doesn't look it in the first picture but it is indeed square. It is completely machine pieced and quilted, with fusible polyester batting which makes machine quilting really simple. All three layers are bonded together for stitching and the resin washes out after the piece is complete.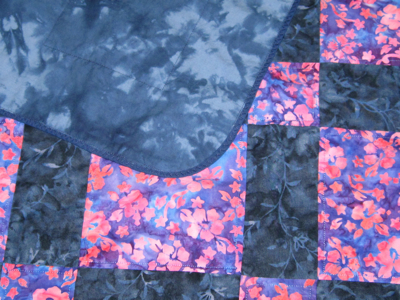 It is quilted around the inside of the squares, which is a little less than the maximum distance for this batting. I actually turned the piece to stitch around, which was a big pain, because I haven't practiced free-motion stitching and I don't have a good presser foot for the sewing machine to do it with. The quilting projects I've done have all been small, mainly they are not pieced much and I do an all-over grid. The one hand quilted piece took forever for a small pillow top. I have some ideas for additional quilts but for anything larger than a baby blanket I'm going to find somebody with the proper equipment to do the quilting.