I've been working on a coat for the upcoming trip, because I desperately need one. It's Polartec Wind Pro Weathershield, a very dense fleece. It's tedious to work with thick fabric and this stuff won't hold a press for anything. But it's warm, we'll see how it holds up in the rain. It has almost no stretch, particularly lengthwise, so I can mostly ignore that it's a knit. Handy, since my lining is woven.
I have the body and sleeves done, ready to put together: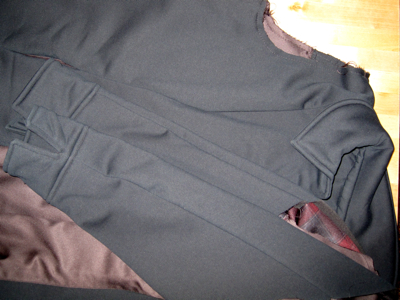 The lining is some discount waterproof breathable nylon, I'm using it wrong side out because it's impossible to match a printed plaid design. It's a lining, so what if it's brown.