I've been busy sewing the past couple weeks, I need to replace my wardrobe again so I've started re-working existing patterns and checking out new ones. Right now I'm making some basic dresses as pattern tests, out of whatever fabric I've got lying around from projects that never happened.
One was particularly interesting, it's made from an old fitted sheet I found at Goodwill. The elastic was crumbling and I suspect it was from a child's room as it has marks on it that look suspiciously like felt-tip pen. I used it to make this princess-seam dress: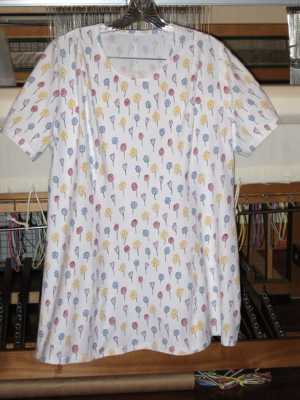 Yes, it is indeed shorter on one side than the other. Because I am shorter on one side than the other. I'm often lazy and don't do it, but it is better to adjust at the shoulder seam than the hem. That way the garment hangs straight.
It is a printed knit with a one-way design of stylized flowers on white. But the print is sideways so the crosswise stretch is top to bottom, opposite of normal garment fabrics. There isn't a lot of stretch in the other direction but this pattern was intended for woven fabric, so that's ok. I can tell how the bodice and sleeves fit (too small across the bust) knowing that the result will be wearable anyway.
The weird thing is that it is strangely stiff for a cotton knit. (I haven't actually done a burn test to know the fiber content.) It resists pins and needles and leaves behind what looks like little shreds of paper instead of normal lint in the sewing machine. The holes left from pins are also quite noticeable. This would suggest damaged fiber and I see catastrophic structural failure in my future. But I wasn't exactly making an heirloom piece here.