Fiber to Fabric demo for Maker Faire
Maker Faire Bay Area is an annual event in San Mateo to showcase projects of people who do things. There are robots and science experiments and fabric swaps and all manner of stuff constructed, taken apart and tinkered with. This is the project planning page for a fiber to fabric demo for Maker Faire 2009. It is a couple of spinner friends getting together to demonstrate the process of creating fabric from raw fiber.
Many spinning groups have participated in a Sheep to Shawl contest, a competitive event where teams spin and weave a shawl meeting certain specifications in a limited amount of time. Judges evaluate the design and execution of the finished item. Some teams train and take it quite seriously, others do it just for fun. You can read about one of these events in this article from Handwoven.
But another purpose is to show fiber in action, often for people who have no idea how fabric is created from raw materials. While most of us cannot grow our own fiber in city apartments and backyards, we do still follow the same steps from fiber to yarn to create our own projects. You can see a few of them elsewhere on this website. Without the pressure of competition, a fiber to fabric demonstration shows each step along the way and connects the pile of fluff at one end with the finished items at the other. While I'm usually too busy to take pictures, here are a few from other people:
At Super Happy Dev House 30 we had a craft room in the middle of a huge technology party. People who usually spend all their time in front of a computer stopped by to see how a loom works or turn the crank on the drum carder.
At Maker Faire 2006, local spinners did a short lecture and demonstration on the history of spinning and basic techniques. Here is one of our demo participants explaining how a spindle works.
The plan for Maker Faire is to have several Makers preparing fiber, spinning and weaving to show the process from fiber to fabric. There will also be a display of different types of raw fibers and finished items and a couple spindles and a simple loom for experimentation. My 2x4 warp-weighted loom is a great way to show how weaving works and it's sturdy enough to let non-weavers try for themselves.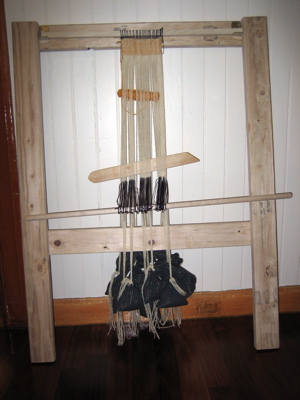 ---
The process so far
It's complicated to get a real sheep to Maker Faire, so we are going to begin with the fiber. The warp is a mill processed brown Blue Faced Leicester top and the weft is a gray Romney. Both are naturally colored sheep fleeces. The BFL I will spin at home and the Romney we will spin at the event.
I bought the BFL at a spinning workshop some years ago, it is nice fiber but a mill error left some short bits and lumps in the fiber. I got it for experimentation, as it needs some extra care to spin a nice yarn. For warp, I'm spinning a medium weight 2-ply. Here's the sample: